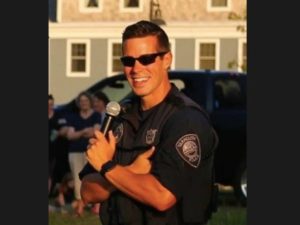 Annually, the Massachusetts Police Association honors officers who have exhibited exceptional courage, extraordinary decisiveness and presence of mind. These officers have acted without regard for their own personal safety in the attempt to save or protect human life. The MPA also honors those who have given the ultimate sacrifice during the call of duty, through posthumously awarding the Medal of Honor.
The following are the awards presented at the MPA Annual convention:
Medal of Honor-  Presented to the survivors of a Line Of Duty Death.  Recent recipients include the families of Woburn Police Officer Jack Maguire, Springfield Police Officer Kevin Ambrose, Yarmouth Police Sergeant Sean Gannon, and Weymouth Police Sergeant Michael Chesna.
Medal of Valor-  Presented for an outstanding act in the line of duty at imminent personal hazard of life, involving extraordinary courage and valor, with full knowledge of the risk involved.
Meritorious Service Medal-  Presented for a highly unusual accomplishment under adverse conditions with some degree of hazard to life and limb, or where death or injury to a third party is prevented.
Lifesaving Medal-   Presented to a member who distinguishes him/herself by performing extraordinary physical acts or rendering life saving techniques to aid in the preservation of a human life.
Distinguished Service Medal-  Presented for exceptional professional accomplishments either in an individual circumstance (ie: Cold Case solved).
Chief Paul Doherty Award-  Presented for exceptional service and contributions toward advancing the police profession.  Recent recipients include Greg Hill of the Greg Hill Foundation and Chief Frank Frederickson of the Yarmouth Police Department.
Award nominations can be sent to the attention of Executive Board Member - Rick Pedrini at
awards@masspolice.com.